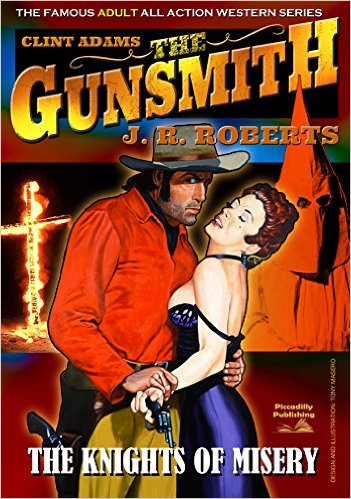 Published April 15, 2016
12: THE KNIGHTS OF MISERY
Clint was surprised to find the Grand Master of the Masons masked. He wore a white hood over his head, which went with his white robes.
The room grew quiet. Off to one side, five men with guns came to attention, but the Grand Master waved them off—for now.
"Mr. Adams, you're a brave man to come walking in here," the Master said, "but also a foolish one. Any one of these men would kill you. All I'd have to do is give the word."
"Then give it," Clint said, looking around the room, of which he had a panoramic view. He could see everyone. "These men know my reputation, right? Don't they, Al?"
"They know you're the Gunsmith all right," Al Fortune said.
"Then they know that I'll kill the first man who produces a gun," Clint said. He looked around the room, catching the eyes of as many men as he could. "Come on, who wants to die first for the Masons?"
Published February 15, 2016

11: RED MOUNTAIN

When things get quiet, Clint Adams doesn't take it easy—he starts going stir crazy. That's how he found himself in Ouray, Colorado. A mysterious, unsigned telegram requesting his help in exchange for $1000 was just enough to get him to leave Texas for this muddy mining town. But the moment he steps foot in the place, an unarmed man is shot dead … and he's got the Gunsmith's name in his pocket. Clint's unwittingly landed himself in the middle of a town full of rival mining companies, gunslinging miners and their lustful wives—who all want a piece of the Gunsmith, for one reason or another. Like the stunning Gloria Augustus, the boss's insatiable wife, and a reclusive foreman who goes by the name of Frank Howard … but who Clint knows to be Frank James, the late Jesse James's brother. Things are getting heated with such mixed company, and if the person responsible for the invitation doesn't come forward soon, the part is over …

Published November 01, 2015

10: DEAD WEIGHT

Clint Adams has always been one to help a lady in need—but carrying her dead husband in a pine box? This one takes the cake. Rachel Chandler, the beautiful widow in distress, knows how to use her plentiful assets to work just about any man, but the Gunsmith is a hard nut to crack. She manages to turn his charity into a full-time job as Clint becomes a long-distance pallbearer to fulfill her husband's dying wish—to be laid to rest in West Texas. From St. Louis to the burial site, they run into a lot of mysterious people who know more about their journey than Clint does. It seems as though Rachel has a story to tell, but he lips are as tight as a coffin lid. He's trying to treat it like any other job. But is Rachel as helpless as she says? One thing the Gunsmith must make damn sure of, Texas won't be the end of his line …

Published September 01, 2015

9: LITTLE SURESHOT AND THE WILD WEST SHOW

Frank Butler has a serious problem on his hands—his wife is being stalked by an obsessed sharpshooter hell bent on revenge. A major problem when you are in New York City and your wife in questions is none other than Little Sureshot, Annie Oakley. So who better than Frank's old friend, Clint Adams to come to the rescue? Trouble is, Frank's not the only one who needs the Gunsmith. Buffalo Bill Cody is in town and he'll do almost anything to get Clint and Annie to join the flagging Wild West Show. Add in a shady Brooklyn detective, a pair of gorgeous vixens hot for the Gunsmith's holster, and Chief Sitting Bull himself, and you've got a classic Western shoot 'em up—in Manhattan!

Published July 01, 2015

8: THE GHOST OF BILLY THE KID

The local gold rush is over. The threat of bandits is next to nada. And by the time Clint Adams rides through it, the pint-sized town of White Oaks is ready to settle back to normal, except for a bitter dispute between two storekeepers. But then folks begin spotting Billy the Kid around town. Problem is, the Kid's been dead several years! Normally, Adams can smell a hoax from a mile away. But, one he's taken on as a hired gun by a storekeeper, the Gunsmith spots Billy the Kid and would swear on a stack of bibles that the menace has come back to haunt him. Little does he know, though, that this phantom has a message for him - that, without the right friends in this town, the Gunsmith ain't got a ghost of a chance!

Published May 01, 2015

7: THE MARSHAL OF KINGDOM

Sam Lance, marshal of a town called Kingdom, was content with his life. Until he and his new bride found themselves caught between two gunmen. Shots were fired and when the smoke cleared, Lance was the only one standing. Now, five years later, Clint Adams finds the ex-marshal in Denver. He's still blaming himself for the death of his wife and still nursing his wounds—self-medicating from the bottle. It's time to get Lance back on his feet again—with a little helping hand from a pretty little lass named Daphne and the Gunsmith, of course. First they get him clean; then sober. But the best wake-up call is on its way ... The brothers of the men Lance killed want revenge. And it looks like Sam Lance is finally going to face his past&mdash:and place blame where it really belongs ...

Published March 01, 2015

6: TALES FROM THE WHITE ELEPHANT SALOON

Luke Short is a good man. He just happens to attract bad things. The latest is Longhaired Jim Courtright. He's a private eye with a public agenda—bent on forcing every business in town to pay for his protection. And now his eyes're on Luke's White Elephant Saloon. But Luke doesn't like being bullied. And his good buddy Clint Adams likes it even less. In fact, when the Gunsmith gets involved, that two-gun tinhorn is going to wish he had some protection of his own!

Published January 01, 2015

5: BARNUM AND BULLETS

Clint Adams was heartbroken, but not over a woman. He was suffering because he had to put his horse, Duke, out to pasture. So where better to get it off his mind and have a little fun than New York City? But the Gunsmith's reputation precedes him and it's no time at all before he is roped into a job as P.T. Barnum's personal bodyguard. It seems everbody's out to get the circus king but things may not be as simple as they look. There's also the matter of separating the master showman's humbugs and hoodwinks from the hard truth. In the end, Barnum has the Gunsmith so spun around he can't tell if he's drawing a bead on a would-be killer or about to shoot himself in the foot ...

Published November 01, 2014

4: DEATH IN DODGE CITY

When it comes to loyalty, Clint Adams, the Gunsmith, is second to none. So when his longtime friend Luke Short is cheated out of his livlihood, threatened with violence, and run out of Dodge City, Clint rides into action. The tyranical new mayor of Dodge is the man responsible, and holds to town in a grip of his own "law and order". His weapons are the law and a lightening-quick hired gun who's just itching to take out the famous Gunsmith. Allied with Clint, however, are the reknown lawmen Wyatt Earp and Bat Masterson. Together, with a select group of Short's friends, these legends of the West are going to set things right for their friend, and clean up Dodge City once and for all!

Published November 01, 2015

3: SHOWDOWN AT LITTLE MISERY

Clint Adams doesn't ditch his friends in times of trouble. But when the friend is an up-and-coming politician named Teddy Roosevelt, the "trouble" could cost the Gunsmith his life. Adams couldn't wait to get out of New York after he foils an attempt of the lives of the Roosevelt family. Thinking that Little Missouri would be a safe haven his troubles are far from over. A New York dandy has turned up out West, riding roughshod all over the Dakota Territory. He claims that he is a friend of the Gunsmith and sports the name of Roosevelt ...

Published July 01, 2014

2: THE LIFE AND TIMES OF CLINT ADAMS

Clint Adams is through with being the Gunsmith. He's fed up with the attention he draws from strangers who just want to make a name for themselves. So when a Boston writer offers Clint money to write his life story, he figures it's a good chance to set the record straight and be the perfect change he was seeking. But before he can write The Life and Times of Clint Adams there are some questions needing answers: What is this publisher not telling him? And why is he being followed by two men he's never seen? Come to think of it, now's not the best time for Clint giving up being the Gunsmith too soon—or there won't be a book—just an obituary.

Published May 01, 2014

1: TROUBLE IN TOMBSTONE

Ex-gunfighter Dallas Stoudenmire is now heir to El Paso, the Texas Border town that draws the dregs of the West like flies. In El Paso, being honest is a sure enough way of getting yourself killed. And Dallas is smart enough to know he needs help. He calls on his good friend Clint Adams, the Gunsmith, to do a little exterminating. But cleaning up El Paso is just the beginning, because the next stop is Tombstone where the Gunsmith teams up with the Earp brothers and Doc Holliday in a showdown against the Wild West's most notorious killers—and the trouble spot called the O.K. Corral.